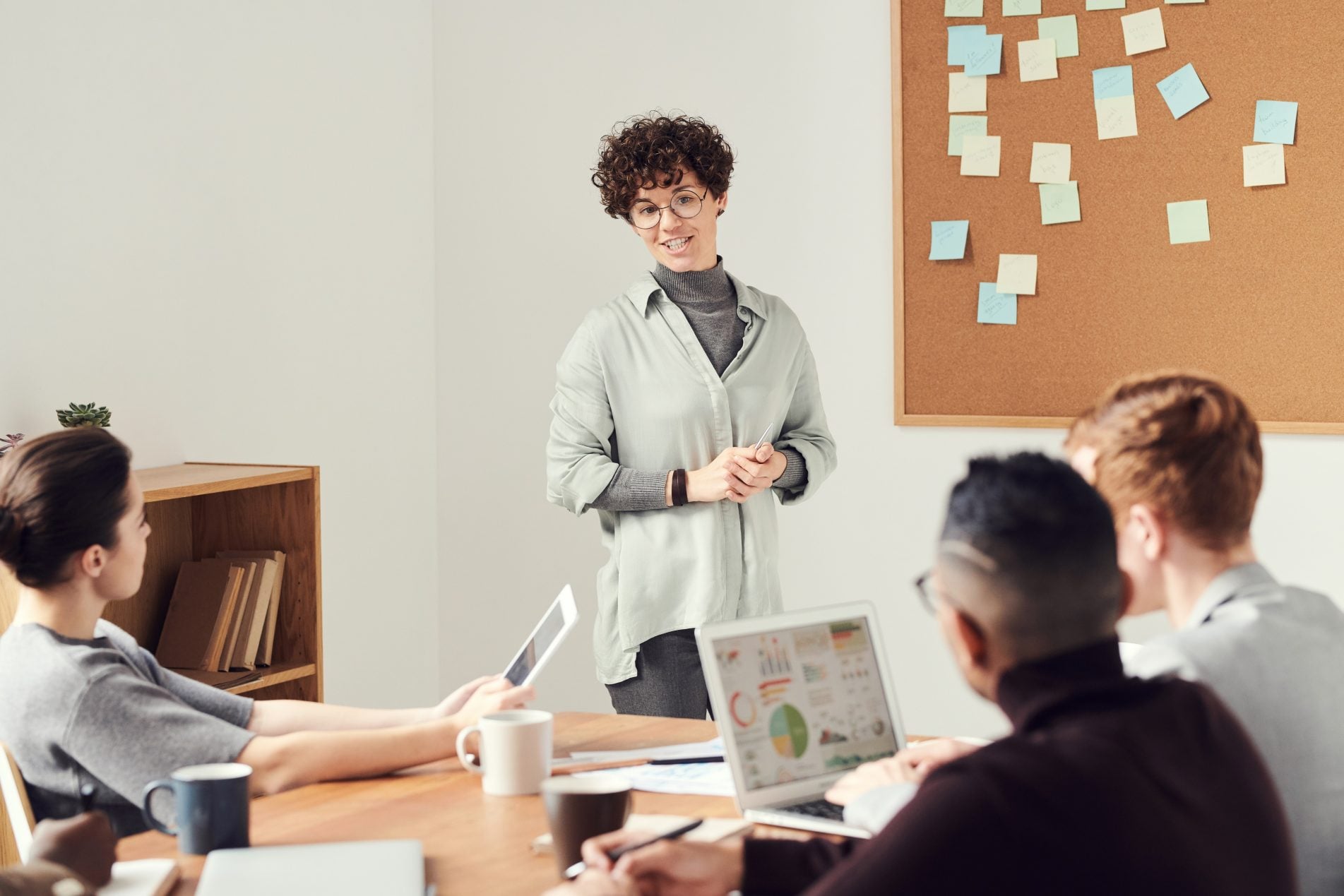 Photo by: fauxels via Pexels
As a training professional, there will come a time when you'll be called upon to deliver a polished presentation before an audience. Whether in the training room, at a conference, or in a meeting, you'll be expected to deliver an engaging and compelling message. 
Part of delivering that compelling message is to grab the attention of your audience. I once read a startling statistic. It suggested that a presenter only has 30-60 seconds to capture the audience members' attention before they become mentally restless and begin to lose focus! 
So even if you plan to deliver content that's well-researched and technically accurate, it's likely to fall on deaf ears if you don't capture the audience's attention in the introduction or opening of your speech. 
I'd like to share four tried–and–true techniques that add impact to a presentation while grabbing the audience's attention. 
Channel 
Your Inner Comedian 
b
y Using Humor
The use of tasteful and non-offensive humor can be a very effective attention-grabbing tactic. Surprise your audience with the use of humor by smoothly working it into your presentation versus announcing that you'll be telling a joke. 
When you do tell a joke, only use one that's in good taste. Strive to make sure the joke is delivered in a manner that is natural and does not feel forced. Jokes seem more natural when they come from your own personal experiences. Just to be safe, test your jokes on someone beforehand. You'll want to make sure they are well received by your audience. 
A
stonish 
Your Audience 
w
ith A Remarkable Statistic
A bold or eye-opening statistic can make your audience "wake up." The use of statistics can even enhance the credibility of your message. When using statistics, make sure they are accurate, up-to-date, content-relevant, and come from a credible source. 
I once attended a CPR course where the instructor cited statistics from the American Heart Association. She began her speech by saying "When a person suffers cardiac arrest, their likely survival depends on getting immediate assistance from someone who knows CPR. Almost 90% of people who suffer out-of-hospital cardiac arrests die. A person's chance of survival doubles or even triples when a nearby person can assist by giving CPR." After hearing those statistics, I became fully invested in the training. I became much more engaged and paid closer attention because I realized I could actually save someone's life by learning CPR. 
Quote 
Someone Famous
Open your speech by citing the wise and profound words of a person your audience considers to be a well-known expert. 
Make sure your quotes are thought-provoking and content relevant. Always cite the original author of the quote, and if you're paraphrasing a quote, inform the audience of that as well. 
By conducting a quick online search, you should be able to find numerous resources for various inspirational and motivational quotes.  
Engage 
Your Audience 
b
y Asking A Rhetorical Question
Professional speakers often grab the attention of their audience by asking rhetorical questions. This type of question doesn't require an actual answer. Instead, it grabs the audience member's attention by sparking interest and making them think. 
According to Andrew Dlugan, founder and author of Six Minutes, a highly respected public speaking website, the use of rhetorical questions encourages audience members to become active participants in your speech. It invites them to think about issues from a fresh perspective.  
Very early in my training career, I was tasked with delivering a series of sales courses to high-performing sales professionals. I learned very quickly that salespeople are typically motivated by money. I used this fact to my advantage as I often begin each new course by asking "Who wants to make larger commission dollars next pay day?" It never failed, that one rhetorical question captured the attention of everyone in the audience. 
So, make the most of each moment by incorporating these four techniques into the beginning of your talks—your audience will be captivated from your very first word.  
What do you think about these presentation techniques? Tell me about your experiences and ideas in the comments below! 
This article was first published December 12, 2016.