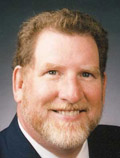 As an advocate of life-long learning and education, I made it my mission to develop workshops that would provide trainers with the skills, knowledge, and materials they need to succeed in their careers. I started Langevin Learning Services in 1984 with some solidly designed workshops and materials, a flipchart, a hand-written schedule, and my car. I went on the road, travelling to major cities to share my ideas and expertise. Over the years, I've seen the company grow from a one-person shop to the flourishing organization it is today. Although the company has changed and grown over the years, our philosophy, founding values, and dedication to our clients have never wavered.
— Ralph Langevin —
Message from Our President
I joined Langevin Learning Services in 1993 with an education in law and business. Under the tireless mentorship of my father, Ralph Langevin, I performed, or had input in, most of the positions within the company. I was dedicated to learning from the ground up, right through to my current role as President. It has always been my goal to continue the legacy of creating the kind of company people want to do business with and employees want to work for. We honor the principles of adult learning in the workshops we design and deliver for our clients, and also within the company. I learned many profound lessons from my father, but the most important one is that we're not just training a list of topics, we're training people. It's the people that continue to inspire our unwavering commitment to learning. 
— Erin Langevin —