Professional Presentation Skills Workshop
Professional Presentation Skills
Save 10% when you register a minimum of 8 weeks before the workshop. Quote EARLYBIRD10
Due to COVID-19, this in-person workshop is currently unavailable. Please contact us for details on workshops for your team, have a look at our live online workshops, or use our handy browse tool to find a workshop to meet your needs.
This comprehensive workshop is for anyone (not just trainers) who must give presentations, speeches, or lectures. It will help you overcome your fear of public speaking by giving you the confidence to deliver polished presentations anywhere, anytime. You'll leave the course with your own recorded presentation and loads of invaluable feedback from your instructor and peers.
YOU MAY ALSO BE INTERESTED IN...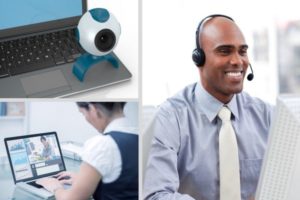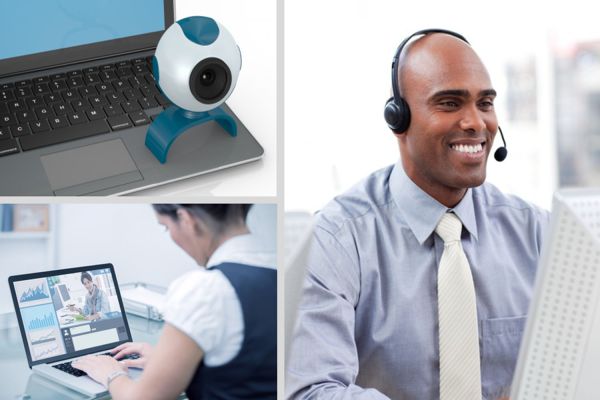 Gain the skills and confidence you need to successfully facilitate synchronous virtual training within your organization. You'll learn how to apply effective speaking skills…
Read More »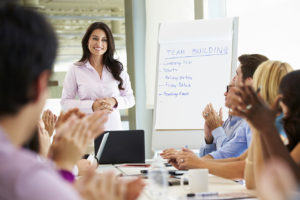 This workshop provides the key "survival" skills you need as a traditional classroom instructor. Build your confidence as you practice delivering a real-world training…
Read More »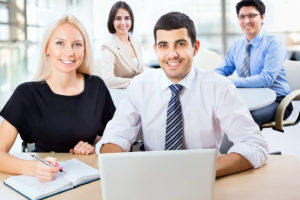 This essential workshop introduces you to research-driven adult learning principles. It is filled with techniques that will help you connect with your audience and build…
Read More »
This workshop is not only for trainers. Whether you're presenting to senior management, making a sales presentation, giving a speech, or speaking at a meeting, this workshop provides the key skills and confidence to guarantee your success.
Set a clear and specific goal for your presentation.
Analyze your audience to determine their needs and wants.
Generate key ideas to shape the content of your presentation.
Write a presentation that is tailored to your audience.
Reinforce your presentation with supporting material.
Create powerful visual aids to add impact to your presentation.
Organize the logistics of your presentation.
Practice delivering an impressive presentation.
Use proper language to make your message more credible.
Enhance your vocal skills to engage your audience.
Use gestures, facial expressions, and movement to enhance your delivery.
Prepare yourself to handle even the toughest question-and-answer session.
Handle challenging comments and difficult situations.
Evaluate the success of your presentation.
Plan
A simple 5-step presentation process.
How to plan a successful presentation every time.
18 key questions to ask the host of the presentation.
A structured worksheet to gather the most relevant information about your audience.
10 quick tips for approaching different types of audiences.
A variety of proven methods to generate ideas for the content of your presentation.
How to organize your ideas to shape a compelling message.
A step-by-step worksheet to plan the critical aspects of your presentation.

Write
How to consistently write the most engaging and professional presentations.
The 3 fundamental components of a strong presentation.
How to write a catchy opening to hook your audience and hold its attention.
How to craft and convey the heart of your message.
7 powerful techniques to reinforce your key speaking points.
9 transition techniques to create a smooth flow between key points.
How to write a memorable closing that will move your audience to action.
A practical worksheet to summarize the key components of your presentation. It's so simple, you'll want to use it for all types of presentations.
When to use visual aids to reinforce your spoken words.
Step-by-step procedures for creating effective multimedia presentations, flipcharts, and handouts.

Prepare
How to prepare all the little details to avoid unforeseen mishaps and dreaded disasters.
A detailed checklist to ensure that you have covered all the bases before your presentation.
A fail-safe presenter's emergency kit.
The 10 best seating arrangements to maximize visibility for either large or small groups.
A list of 12 useful reminders to avoid problems when traveling.
9 preventive measures to foil any potential catastrophes.
How to create "cheat sheets" to jog your memory as you speak.
12 tips to groom and dress yourself for success.
8 rehearsal techniques to eliminate nervousness and anxiety.

Deliver
How to apply a 6-step presentation flow to all types of presentations.
How to enhance your speaking skills so that you'll sound like a pro.
How to avoid the most common speaking errors.
Tips for finding the real power in your voice.
9 simple yet effective exercises to enhance your vocal variety.
How to use eye contact, gestures, facial expressions, and movement to focus attention.
How to avoid over 30 distracting habits that can have a negative impact on your presentation.
How to grab and hold audience interest.
How to incorporate visual aids into a smooth delivery.
How to anticipate tricky questions.
4 proven techniques for generating questions from your audience.
The 4-step S.K.I.L. method for answering questions clearly and tactfully.
Over 20 strategies for handling challenging questions with confidence.
How to keep your cool when dealing with a hostile questioner.
Over 35 strategies for dealing with difficult people.
The top 10 ways to recover when you start to lose your audience.
How to deliver a credible presentation, even when you're caught unprepared.

Evaluate
How to get specific, tangible feedback so that you can constantly refine your skills.
3 practical methods for gathering feedback on your presentation.
A simple yet thorough evaluation form to gauge audience reactions.
70 criteria for conducting a thorough self-assessment.
Over 30 possible questions for soliciting concrete feedback from peers.
10 best practices for developing effective self-coaching strategies.
All the worksheets, checklists, and forms in Microsoft® Word template format. Simply download them from your personal My Langevin website. 
Free 1-year feedback service. Send us a recording of your presentation and we will give you detailed feedback to further develop your skills.