Certified Instructional Designer/Developer Accelerated Program
Certified Instructional Designer/Developer
Accelerated Certification Program
Save 10% when you register a minimum of 8 weeks before the workshop. Quote EARLYBIRD10
Due to COVID-19, this in-person workshop is currently unavailable. Please contact us for details on workshops for your team, have a look at our live online workshops, or use our handy browse tool to find a workshop to meet your needs.
This hands-on program shows you how to design successful courses that are interactive, engaging, and lively. It gives you the core skills to accurately diagnose training needs and to create relevant courses that truly improve employee job performance. Learn how to apply Langevin's proven 12-step design process to simplify your job, save you time, and consistently produce top-quality courses.
Backed by over 35 years of instructional design experience and innovation, this program provides the highest level of certification in the training industry.
YOU MAY ALSO BE INTERESTED IN...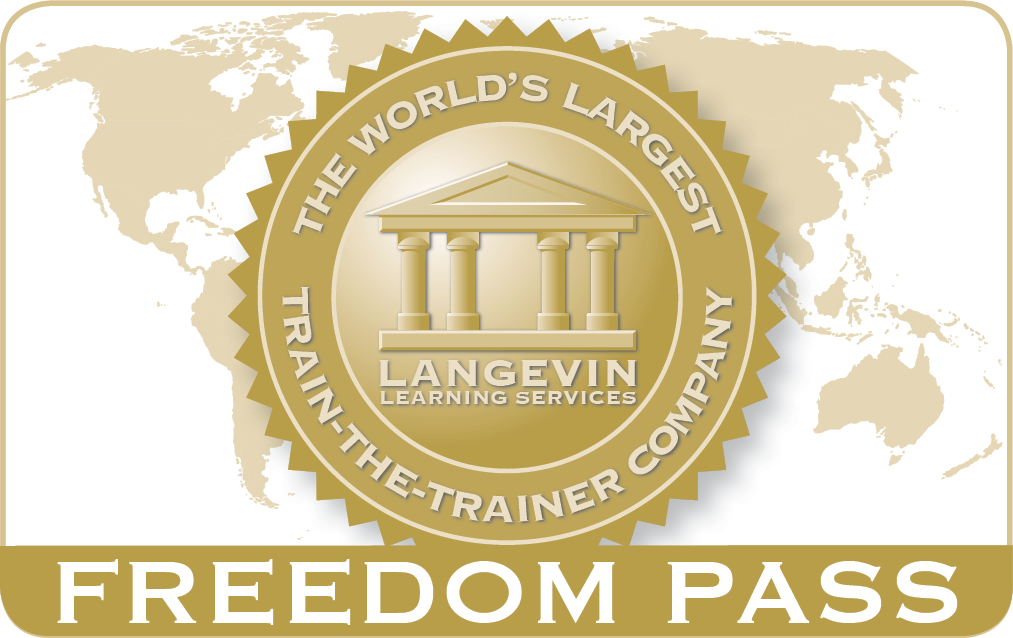 12 training days for anyone, anytime, anywhere. Save money and achieve your desired level of professional certification more quickly.
For trainers who want to develop and enhance their instructional design skills using an ISD model to improve the effectiveness of their courses.
The key objectives for this program are:
Apply a 5-step consultative approach to analyze training needs.
Plan instructor-led training courses that address performance needs.
Design instructor-led training that sets learners up for success on the job.
Evaluate instructor-led training courses.
Translate job-related knowledge and skill into clear, concise, and complete terms for your target audience.
Planning/Analysis
A complete step-by-step needs analysis process.
How to reduce design time by 30-50%.
Key questions to ask when a project is assigned to you.
How to plan successful instructional design projects.
How to estimate design time.
What short-cuts to take if design time is limited (and which ones not to take).
Guidelines for reducing course length.
How to determine constraints affecting course design.
The most critical things you need to know about learners.
What to do if learners have very diverse backgrounds.
How to develop performance-based content.
How much theory/background material to include in a course.
How to prioritize course content to keep it lean.
How to conduct a thorough task analysis quickly.
Tips for working effectively with SMEs, clients, and line managers (and your own boss).

Design/Development
How to write performance-based course objectives.
The 4 major types of tests and how to design them.
How to design tests and exercises to evaluate performance.
What about evening work?  Pre-course work?
50 instructional methods and creative variations.
How to select the most appropriate methods.
The 6-step "Learning Strategy" for modular design.
How to develop course materials (e.g. manual, handouts, etc.).
How to create foolproof materials for instructors to deliver a course successfully.
The best method of sequencing course content.
How to design interactive lecturettes.
Tips for designing discussions that build 100% participation.
How to design focused and clear demonstrations.
How to build meaningful behavior-modeling presentations.
An approach for making your practice exercises relevant to learners.
10 ways to make role-plays realistic and easy for instructors to use.
How to design simulations that include real-world standards and conditions.
How to build case studies that engage learners.
How to write performance-based training materials that appeal to learners.

Implementation/Evaluation
How to apply principles of adult learning to your course design.
The 3 phases of course validation.
A fail-safe approach for testing a course when you just don't have enough time.
A versatile checklist for assessing your courses or vendor materials.
The 4 types of evaluation.
Items to include in course evaluations.
5 sample evaluation forms.
How to evaluate learner satisfaction.
How to measure learning.
How to measure improvements in job performance.
Why courses fail (13 major design errors and how to avoid them).
All the worksheets, checklists, and forms in Microsoft® Word template format. Simply download them from your personal My Langevin website. 
Langevin's Writing Skills for Trainers self-study guide (available as an Adobe® Acrobat® file). Simply download it from your personal My Langevin website. 
Free e-learning module: Training Needs Analysis – a $599 value. 
Free 1-year feedback service. Receive detailed feedback on your materials to help improve your courses.