Certified Instructor/Facilitator Accelerated Program
Certified Instructor/Facilitator
Accelerated Certification Program
Save 10% when you register a minimum of 8 weeks before the workshop. Quote EARLYBIRD10
This high-impact program shows you how to be a dynamic instructor, masterful facilitator, and polished presenter. It provides you with highly focused practice opportunities and constructive feedback so you'll leave with tangible skills you can use immediately. It is specifically structured to build your confidence quickly and skills progressively. You'll begin by exploring the fundamental skills of presenting training content, then progress to the more subtle and sophisticated skills of leading a group of adult learners. Return to your workplace as an expert course leader who consistently gets rave reviews on end-of-course evaluations.
This intensive program provides the highest level of certification for course leaders and has been approved by Microsoft® for the presentation skills component of Microsoft® Certified Trainer (MCT).
YOU MAY ALSO BE INTERESTED IN...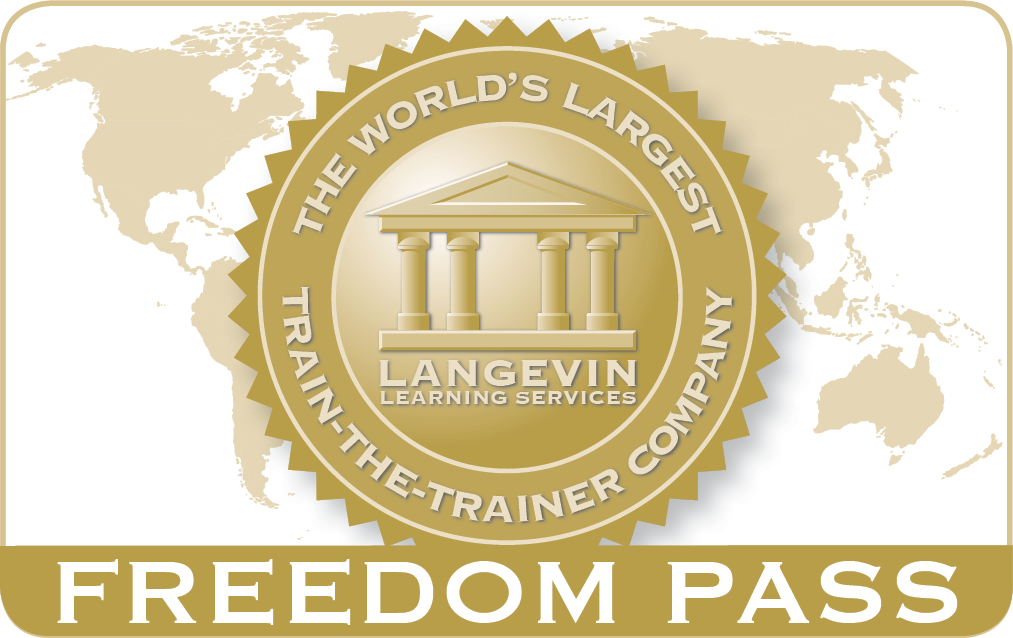 12 training days for anyone, anytime, anywhere. Save money and achieve your desired level of professional certification more quickly.
For classroom instructors and trainers who want to develop and reinforce their instructional techniques, learn how to expertly facilitate learning, and sharpen their presentation skills.
The key objectives for this program are:
Employ effective presentation skills.
Deliver instructional teaching sessions that meet specific learning objectives.
Facilitate learning by applying subtle course facilitation skills.
Presentation Skills
The most common concerns for new instructors and how to overcome them.
How to overcome the nervousness and anxiety that any instructor feels.
How to project confidence and enthusiasm.
The "survival" skills needed to succeed in such a demanding job.
How to employ effective speaking skills (e.g. volume, style, vocabulary, etc.).
12 tips for a dynamic speaking style.
How to sustain eye contact with learners.
What to do about your personal mannerisms.
How to use gestures to reinforce your message.
When to be dynamic and energetic versus relaxed and easy-going.
How to make a strong first impression.
How to build rapport with your learners.

Instructional Skills
7 vital facts about how adults learn.
A simple approach to determine the content for each lesson.
The type of content that should not be included in a course.
How a lesson should flow.
An easy-to-use 6-step strategy for structuring your courses.
How to write instructional objectives quickly and easily.
7 WIIFM techniques for presenting benefits to learners.
50 instructional methods and creative variations.
How to select the most appropriate methods.
How to deliver interactive lectures that won't bore your learners.
Practical tips for demonstrating technical/interpersonal skills.
How to lead engaging discussions.
How to ensure learners practice what they learn.
The best way to provide feedback to learners.
Guidelines for conducting meaningful reviews and summaries.

Facilitation Skills
How to apply the more subtle and sophisticated skills needed to lead a group.
Instruments for assessing your instructional style.
How to select the most appropriate style.
60 items that influence your style.
How to adapt your style when necessary.
How to create a healthy, high-impact learning environment.
15 tips for setting up a classroom properly.
A proven approach for starting a course on the right track.
How to effortlessly lead a group of adult learners.
How to make dull material interesting.
15 tips to maximize learner confidence and self-esteem.
Simple techniques to get everyone to participate.
20 tips to stay on schedule and avoid time wasters.
How to make sure learners succeed.
6 powerful techniques to increase learner motivation.
12 tips for meeting individual needs.
How to promote the use of new skills on the job.
How to build fun into your courses (without going too far).
20 tips for preventing boredom.
How to maintain healthy group dynamics.
How to use competition constructively.
The art of applying active listening skills.
How to apply effective questioning techniques.
How to use visual aids effectively.
How to spot and prevent problems before they erupt.
When to intervene (and when not to).
How to handle problem people.
A simple yet effective intervention approach.
How to stay in control during difficult situations.
How to prepare a post-course report for your supervisor.
Tips for assessing your overall strengths and weaknesses as an instructor.
How to protect yourself against burnout.
How to broaden your repertoire with new options and techniques to go beyond "the way it's always done."
All the worksheets, checklists, and forms in Microsoft® Word template format. Simply download them from your personal My Langevin website. 
Langevin's 55 Creative Tools for Trainers book. It's loaded with 15 icebreakers, 12 energizers, 11 review methods, and 17 techniques for adding humor and fun to your training!!! 
Free 1-year feedback service. Send us a recording of yourself instructing and we will give you detailed feedback to further develop your skills.